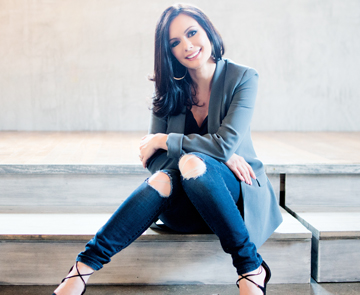 Who is Crissy Outlaw?
Crissy was molested at the age of 4...a pattern that would continue through her childhood and teen years. Crissy was 12 years old when her father's erratic behavior and alcoholism tore her family apart. She often felt confused because she was raised with the belief that sex was for marriage and, since her father said he would kill anyone who touched her, Crissy kept it a secret. As a teen, she rarely saw her father. He would disappear and would not call. She lived with her mother and stepdad while a teenage. She suffered from depression, rebelled, and became sexually active. At the age of 17, Crissy discovered she was pregnant. With no support, Crissy was taken to get an abortion. She was broken.
In her early twenties, Crissy lived with several different boyfriends, all who broke her heart. Most boyfriends used porn, leaving her feeling as though she just couldn't measure up. Pressured to look better, she had her breasts augmented. After endless breakups, and at an all time low, Crissy started online dating, traveling from state to state to meet up with various men. She couldn't bear to be alone because her one dream in life was to be a wife and a mother. Grasping for any sense of control, she used sex as a way to try to keep the men she loved happy.
She made one poor choice after another and quickly found herself working in the sex industry.
It started when Crissy discovered a modeling website and submitted photos. She immediately received offers to do porn. Feeling as though she had nothing more to lose, she took her first shoot. One shoot led to next.
Her ongoing search for love, and little personal support, kept her in the porn industry. It was something she never dreamed she would end up doing, but the doting photographers and the affirming fans seemed to fill her heart's empty places. Willing to do anything for "love," she sacrificed anything to get it...even abuse. She met a man who took over managing her porn career and pushed her to do more hardcore shoots. For three and a half years of the seven years Crissy was in the industry, she was in a physically and emotionally abusive relationship with a man who took all over her money. He was what people in the sex industry call a "suitcase pimp."
After several suicide attempts, Crissy left that relationship with the help of her personal assistant. One night, she cried out to God and asked Him to prove He was real. Nothing she knew about God was what she learned about in Sunday school as a child. She thought no one would ever love a woman like her because she had made so many mistakes. She felt dirty and alone. She prayed for God to send her a sign. He did. A couple of days later, He sent a new friend into her life who told her about Jesus. She knew without a doubt God has used him to help her break free. That day, Crissy left the porn industry and has never looked back.
The Bible says you will find God when you seek Him with ALL of your heart. That's what she did, and what God has done for Crissy, He can do for you as well. God sent His son to die on the cross to save us from the penalty of our sins. If you repent and turn away from your sin and allow Him into your heart, you too will be saved. All you have to do is accept His love. It is a free gift and cannot be earned. You can have a new life and a second chance just like Crissy.
It's been over a decade and, by God's grace, Crissy's life has changed drastically. She has been sharing her story across the United States and as far as South Africa. Her story has been featured on the news, gossip magazines, GQ, several documentaries and numerous websites including Playboy! Crissy met a wonderful man who loves Jesus and married him. Crissy spends much of her time helping women in various stages of the sex industry and runs a support group in Houston, Texas. That's her passion! She also has a "fun" job selling cosmetics. If you love makeup too, send her a message through the contact form and she will give you more info! God bless you all.
89%
Women in the sex industry who say they wanted to leave but had no other means for survival.
73%
Women in prostitution who say they have been raped 5 or more times.
70%
Percentage of women trafficked into the commercial sex industry (strip clubs, etc.)